If you are looking for a flood light for illuminating your outdoor space, you must be facing a tough time choosing between conventionally powered wired lights and modern solar lights. However, this was not a choice a couple of years ago when solar lights were not very popular. With the increasing development in the field of solar energy, electronic stores are now offering more solar lighting or heating equipment than regular conventional options. Solar flood lights with motion sensors are being widely installed for late-night security as the light can detect motion and turns on as a response. These flood lights are powered by a set of solar cells that capture sunlight, store it within the inbuilt batteries, and convert it into electric energy to power the light.
Solar-powered floodlights have a variety of applications ranging from security to outdoor sports to lighting billboards etc. We have compiled all the necessary information you need to consider along with the top five picks for the best solar flood lights with motion sensors.
Advantages of solar flood lights
Following are some reasons you should prefer solar flood lights over regular wired lights.
Solar flood lights offer more installation options as they are wireless and only depend on the availability of sunlight. Therefore, you can install them practically anywhere. The only mandatory factor is direct access to solar energy.
The most attractive benefit is that solar energy is free of cost so there is no concern of paying huge utility dues for outdoor lighting.
Solar flood lights usually consist of two or three components which are all connected with a single wire. This makes their installation very convenient and time-saving.
Due to easy mounting and assembly, it is easy to change the location of the light depending on the consumer's changing requirements.
Shifting from conventional electricity sources to renewable sources not only saves money but also protects the environment from adverse impacts.
For solar flood lights, the market offers a wide range of products. The product range is rapidly growing with new models consisting of enhanced features. These include solar-powered accent lights, security lights with motion sensors, lawn lights, etc.
Type of solar flood lights with motion sensor
                             All-in-one solar flood light              Split solar flood light
1. Split solar powered flood lights
These flood lights consist of a solar panel, LED light, battery, and controllers. In split floodlights, the solar panel and the battery are not pre-assembled together and come as individual components. While installation, both these individual parts are wired together. Therefore, these lights are a little difficult to install and plain-looking.
2. All-in-one solar flood lights
In this type of solar flood lights, the solar panel, controllers, LED light, and battery are all integrated into a single unit. This allows for easy mounting and installation. They are most commonly used in the commercial sector and by house-owners. Moreover, they are also aesthetically pleasing as they have a compact assembled structure.
What to look for when choosing solar flood lights with motion sensor?
If you want to buy a solar-powered flood light with a motion sensor for your outdoor spaces, you need to consider four important factors. These are briefly discussed below:
1. Brightness and power
Lumen is the unit for measuring light output, an indication of the brightness of a lighting source. While watts are commonly used to measure the work done by electric energy in a period of one second. When comparing the brightness of different solar flood lights, look for the lumen rating instead of wattage as two bulb types consuming the same amount of energy may differ in brightness level.
2. Solar panels
As solar panels are the energy capturing source for the solar flood lights, it is important to check the type, wattage, and size of these panels. Solar panels are of three types i.e. monocrystalline, polycrystalline, and amorphous. Monocrystalline panels are highly efficient and have a high cost while amorphous panels have the lowest efficiency and cost. The wattage of the panels depends on the surface area as solar panels with larger sizes tend to capture sunlight. So, if you need to achieve higher brightness, select flood lights with multiple panels. Thus, the size of the solar panel is an important factor however, it depends on the area where you intend to install the light.
3. Fixture and casing
As these lights are installed outdoor, the casing of solar flood lights should be weather-proof to tolerate weather conditions. Solar flood lights come with either an Aluminum or a plastic casing. The Aluminum casing is more resistant to weather condition and thus have higher costs. Additionally, it important to check for the IP (Ingress Protection) rating of the fixture against dust and water.
4. Sensors
Motion detectors and photosensors have a significant role in solar flood lights. They allow energy conservation by turning on the light only when required. There are three types of motion sensors i.e active sensors, passive infrared sensors or PIR, and combined sensors. PIR sensors can be conveniently adjusted and don't detect random object movements such as tree branches or wind-blown leaves.
Best solar flood lights with motion sensor- Top  5 picks
We have shortlisted the five best options for solar flood lights with motion sensors for all those who are searching for efficient, cost-effective, and environment-friendly lighting fixtures.
The A-Zone solar flood light consists of an LED light source with a polycarbonate lens which enhances its brightness. It has a much longer operation time when compared with other solar flood lights. Moreover, the light is equipped with a modern PIR motion sensor which can detect up to a range of 10-26 ft. The outer body of the solar light is composed of Aluminum allow and ABS plastic with IP66 rating and water resistance.
Key features
The battery capacity of 2600mAh, requiring only 6 hours to completely charge.
Automatic transition to a low-light mode for conserving electricity.
Equipped with current and voltage stabilizers.
Allows 360° rotation for a larger range of lighting.
Brightness power of 800 lumens.
Pros:
Easy to install
Longer operation time (40h)
High brightness
Cons:
A narrow focused light beam
Very limited beam width and light range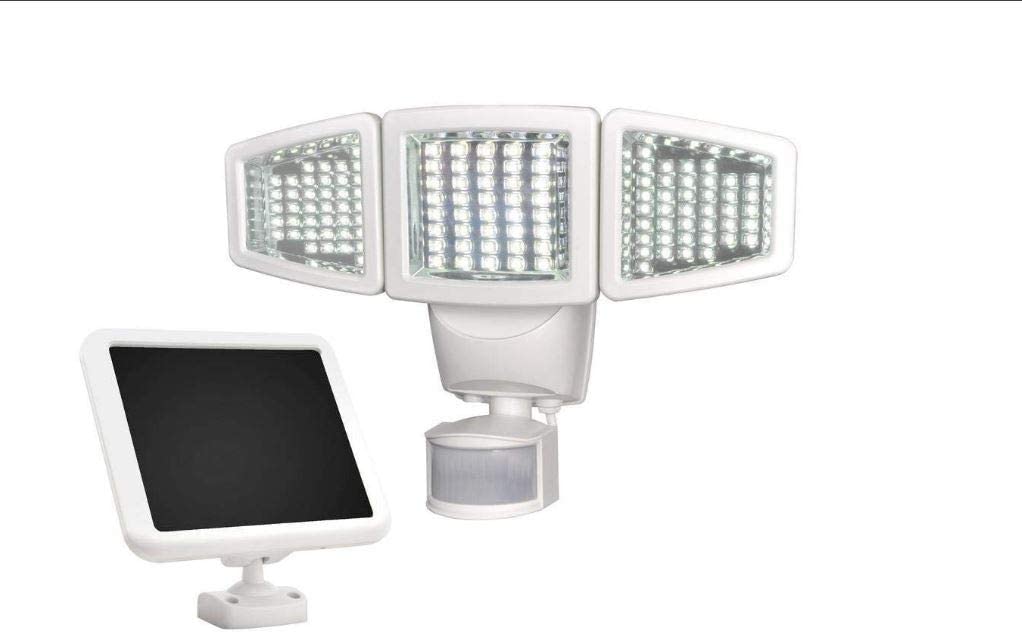 The Sunforce solar flood light comes with an adjustable motion-detecting range as it supports three angle modes for forward, left, and right reaching beam. This is an ideal lighting option for entryways, garages, outdoor sheds, and remote areas. It consists of amorphous solar panels as the energy capturing source.  In addition to this, the light allows two setting modes which the users can use individually or in combination. This includes the duration of light once the motion is sensed and the second is the range of the sensor. Both of these factors can be controlled.
Key features
Provides brightness power of 1000 lumen.
Consists of 120 LED bulbs.
Comes with a power wattage of 1.8 W.
Pros:
Wide coverage area
Useful multiple settings
Cons:
Moderate weather protection
Run time can vary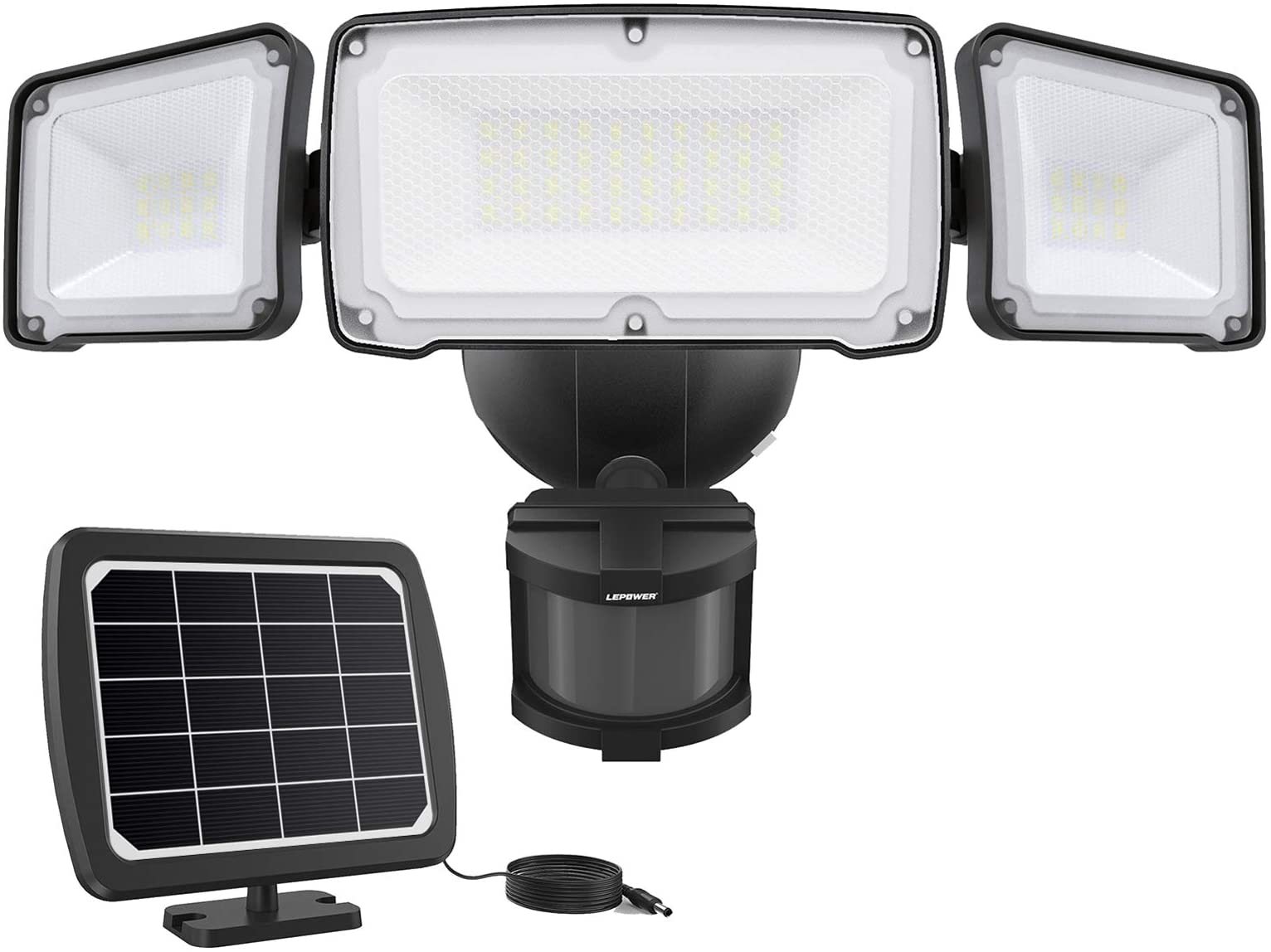 This solar-powered flood light comes with a 2400 mAh built-in rechargeable battery, up to 72 ft motion-detecting range, and 1600 lumen illumination intensity. The customers have reported their positive experience with LEPOWER, raving about its exceptional brightness. Moreover, it is easy to install, comes with multiple adjustment options, and allows convenient use. It consists of Samsung high-power LED beads as a light source with filter lenses producing glare-free soft light. Therefore, it is an ideal choice for lighting up your back yards, garages, driveways, walkways, and outdoor staircases.
Key features
Provides wide motion-sensing angle of 180°.
Bright power of 1600 lumen and 5500K light temperature.
Improved IP65 waterproof casing and fixture.
Pros:
Wide detection angle
High brightness
Easy installation
Multiple adjustable options
Cons:
Battery run-time greatly varies
Moderately precise motion-sensing feature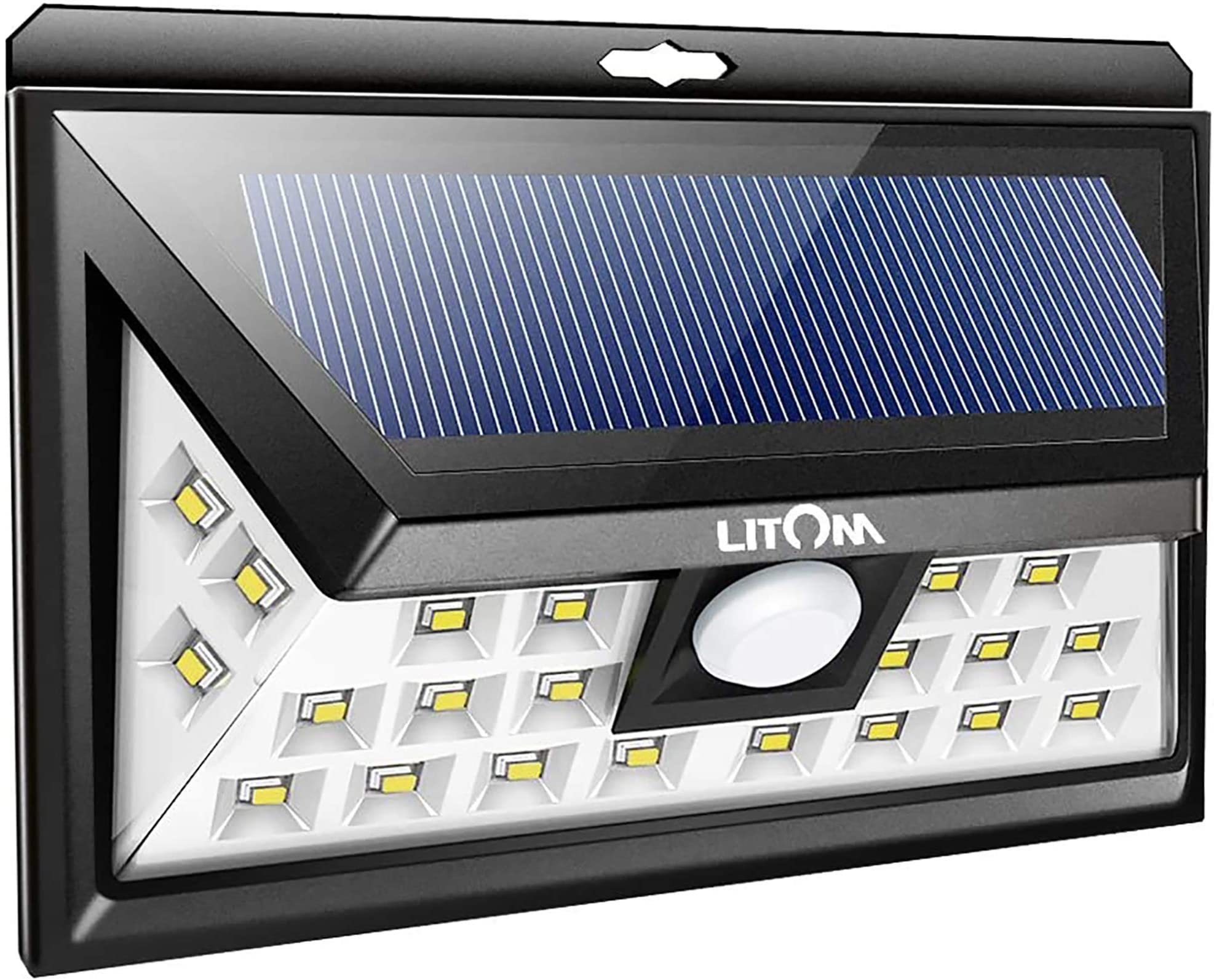 This is a solar-powered boxed floodlight that is very convenient to install and has a compact, delicate, and effective design. Customers have positively reviewed this light and have thoroughly appreciated its brightness and remarkable motion-sensing feature as it is very sensitive to even the slightest movement. LITOM as one of the leading solar light manufacturers has launched this model as a perfect low-cost option for outdoor spaces.
Key features
Has a brightness power of 420 lumens.
The wide motion-sensing angle of 270

°

IP65 weatherproof rating
Lighting range of up to 200 square feet
Pros:
Easy, convenient, and fast installation
Light ups for only 20 seconds on motion detection thus, conserves energy
Cons:
Lower wattage solar panel
Brief battery run-time
The Otdair solar flood light comprises 3 heads with a multi-joint rotatable design. It features a built-in 2200 mAh lithium-ion battery. The battery has a run-time of 30 hours. It offers a motion sensor with a detection range of about 33 ft with a wide angle of 120°. You can use them easily in different weather conditions due to IP65 weatherproof casing. 
Key features
Comprises of 70 LED spotlights.
Brightness power of 550 lumens and color temperature of 6500K.
Light-ups for only 30 seconds on motion detection thus, conserve energy.
Allows 360

° rotation.
Pros:
Allows fast charging
Dusk to dawn illumination feature
Cons:
Heavy
Slightly difficult to install
If you are searching for an environment-friendly and energy-efficient lighting solution for your garages, lawns, front doors, driveways, or other outdoor areas, you should look for solar-powered flood lights. For enhanced security and energy conservation, consider those which come with motion sensors. To ease your selection process, we have shortlisted some of the best solar flood lights with motion sensor along with the important factors which should be checked while selecting one. We hope that you find the best illuminating solution for a safe and pleasant outdoor experience.