With the increasing environmental awareness regarding the adverse impacts of conventional energy resources, people are rapidly acknowledging the benefits of renewable energy. Solar energy is considered the most widely developing renewable energy source. Owing to this, the demand for solar energy system components such as solar panels, inverters, generators, etc. is also experiencing a surge. For installing a solar energy system, the first step is deciding what type of panels should be selected. With the increasing technological development, many variants of solar panels are found in the market. Each type of panel has its own set of advantages and limitations so the selection purely depends on consumer requirements. Here we have shortlisted for you some best solar panels under $100 and $300.
Despite the fact that solar energy systems pretty solidly return the initial investment but still the cost element is there while selecting system components. Everyone prefers to buy a product that offers maximum specifications on a low budget. With such a wide variety available as well as increasing government subsidies and tax cut-offs, one can easily buy an affordable panel by doing little research.
Types of solar panel cells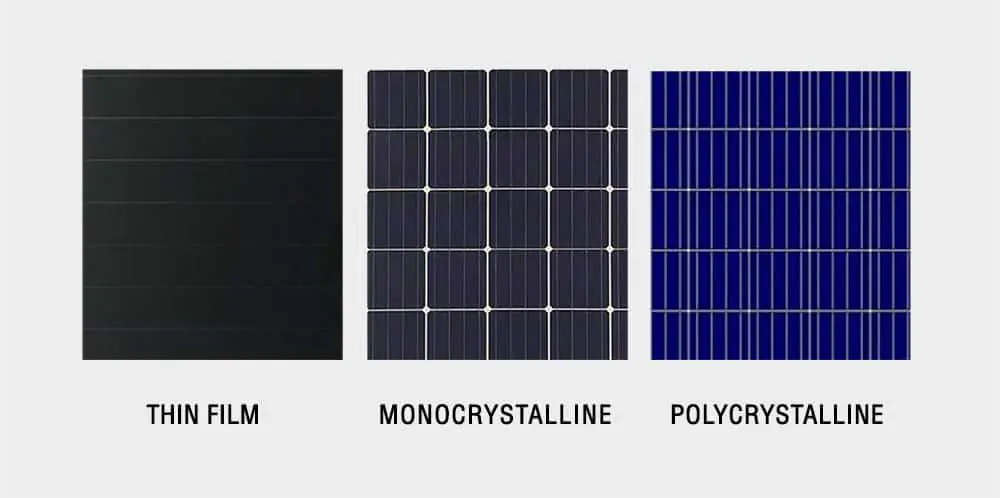 The primary unit of a solar is the "cell". Solar cells are composed of silicon and absorb photons in the sunlight, allowing them to release electrons from the silicon atom. These electrons are then used for generating electric energy. Solar panels are of three types:
Monocrystalline: These are popular for their higher efficiency and sleeker appearance. They are composed of single-crystal silicon so the generated electrons have room to move. The major limitation is its high cost.
Polycrystalline: They are also known as multi-crystalline solar panels. In these panels, multiple silicon fragments combine to form wafers of the panel, unlike monocrystalline panels. They have lower efficiencies and less cost.
Thin-film technology: This is the most latest technology in solar panels. They are composed of Cadmium Telluride or amorphous Silicon. These panels are very thin and thus have less cost.
Factors to consider when buying solar panels?
Following are some factors that should be kept under consideration while selecting the best solar panels under $100 and $300.
1. Panel cost
This is the most important aspect to consider while selecting solar panels. Cost is determined by multiple factors i.e. size, wattage, service life, certifications, and material quality. However, the least expensive panels might not always provide good efficiency so select the product with the best performance at minimum cost,
2. Panel quality
The quality of materials used to build solar panels is important to consider. Materials vary in their efficiency, durability, and cost. Choose the manufacturer with the highest rating and consumer reviews as you are doing a huge investment. Top-notch manufacturers constantly work on their Research and Development (R&D) which results in regular improvisation in material quality.
3. Energy efficiency
Efficiency refers to the amount of light the panel receives and converts into electricity. It is the measure of the electricity produced by  solar energy systems. Note that higher efficiency comes with a higher cost, therefore, carefully analyze your power demand before paying extra for more efficient panels.
4. Temperature coefficient
It is the measure of the effect of high temperature or heat on the solar panel's performance after their installation. Solar cells' type also influences temperature coefficient so choose the right panel which suits your area's climate. This is important because overheating the panels reduces their life.
5. Size of the panel
This includes both the dimensions of the panel and its power wattage. The size of the panel is based on your electricity requirement and the area available for installation. Select solar panels that are small in size but have high power wattage.
Best solar panels under $100- Top 3 picks
If you are looking for low-wattage solar panels for a small power setup, we have enlisted for you the most efficient, highly recommended best solar panels under $100.
These are highly powerful, lightweight, and small in size solar panels ideal for any kind of off-grid application.  They are greatly famous for their durability as well as high strength. Renogy 100 W panels have an enhanced tolerance against pressure and impact. The panels measure 40.9 inches in height,  21 inches in width and weighs approximately 15 lb. They can be favorites of people fond of traveling and looking for low power backup in a budget of $100.
Key features
Improved multi-layer encapsulation for better efficiency, high performance, and extended service life.
Proven positive output tolerance of 0 to 3%.
Easy mounting options with ground mounts, pole mounts as well as tilt mounts.
Compatibility with both on-grid and off-grid inverters
Already drilled holes in the back frame to allow easy and safe mounting along with those for grounding.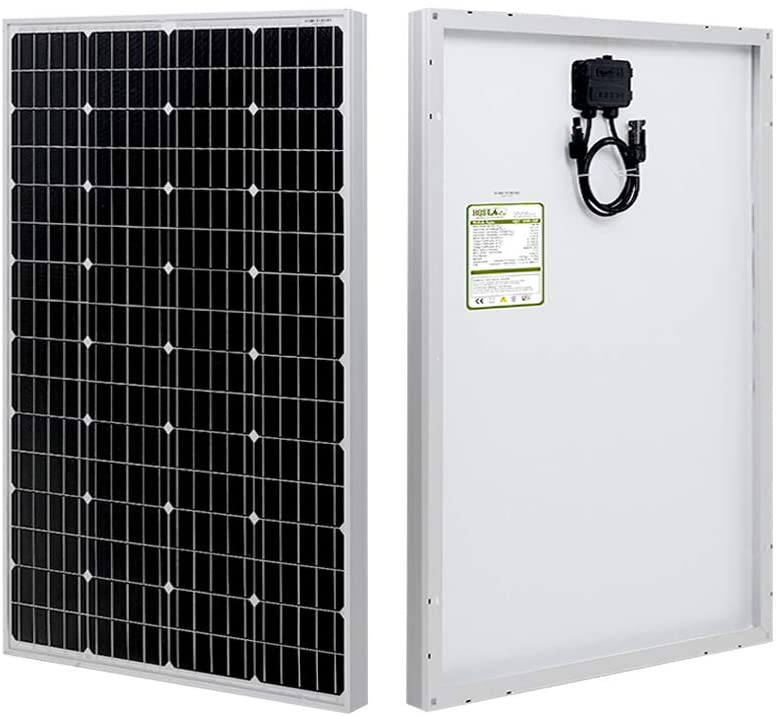 These are highly efficient 100 Watt monocrystalline solar panels. HQST 100W panels are compact in size providing higher space efficiency and sleeker aesthetics. They can provide a daily average power output of 500Wh, however, it may vary based on the sunlight availability. These panels have all the necessary features which rank them second in the list of best solar panels under $100.
Key features
Consists of bypass diodes which eliminate the reduction in power generation due to shade.
Highly efficient in low-light conditions.
Anti-reflective and highly transparent.
Iron tempered glass top which provides maximum resistance against pressure.
Resilient enough to tolerate high-pressure winds (2400 Pa) and heavy snowfall (5400 Pa).
Improved lamination with multiple layers for better performance and maximum durability.

Anti-corrosion frame composed of Aluminum for safe outdoor use.
These panels are most widely used in Recreational Vehicles (RVs), boats, camps, traffic control, and other similar off-grid activities. Newpowa 100W 12V is a perfect choice for bringing power to applications off-grid. These are highly efficient polycrystalline panels with ethylene-vinyl-acetate lamination. They are compact in size with dimensions of 35.83 x 26.57 x 1.18 inches and thus are ideal options for those looking for affordable high-performance panels.
Key features
Multiple convenient mounting options.
Corrosion-resistant, solid anodized frame with drilled holes for ease of mounting.
Built-in diodes within the junction box to reduce power drops due to shade.
High transparency allowing maximum light capture.
Resilient enough to tolerate high-pressure winds (2400 Pa) and heavy snowfall (5400 Pa).
Tedlar Polyester Tedlar (TPT) composite layer on the backside to allow heat dissipation while ensuring improved panel efficiency.