With the increasing technological advancements, diversification of energy mix with renewable energy resources is gaining popularity. Solar energy is one of the most rapidly developing renewable energy sources. It has provided individual homeowners with the opportunity to have their own power generation system. Solar power generators provide an emergency power back-up by converting solar panels' energy into electrical energy. This electrical energy remains stored in the battery and can be used later through an invertor. The term "Solar Generator" technically refers to a power system driven by solar energy, however, most people use it while referring to portable solar setups. Solar-powered generators may not be feasible for fulfilling the electricity demand of a whole house or a large commercial unit. It can only be used for small-scale applications like powering a motorboat, Recreational Vehicles (RVs), or as an alternative power source in case of any emergency.
Planning to buy a solar-powered generator is a noble undertaking, however, selecting from a wide range of available options is never a walk in the park. If you want to make the right decision by picking the best option, you need to first determine your energy requirements. If you are buying within a budget, select a solar generator with specifications that increase its performance rather than its cost.
Buyer's guide
Following are some important points one should keep in mind while buying solar-powered generators.
The capacity of the solar generator battery is measured in Watts (W) which is translated into Watt hours when we account for it in terms of power consumption. It is very necessary to check the battery wattage of the power generator before buying it. If you have high energy requirements then go for the solar generator which comes with a powerful battery.
The most commonly used batteries in solar generators are lead-acid and lithium-ion batteries. Lead-acid batteries are very cost-effective but they have poor battery life. On the other hand, lithium-ion batteries have a longer service life and are compact, light in weight, and portable. The major drawback is their high cost so, select according to your requirements list and budget.
Availability of versatile charging ports
As we are living in the 21st century, which is the century of technology, so every individual needs a complete power backup for his personal gadgets. Therefore, it is suggested to select the solar generator with sufficient charging ports in order to charge multiple devices simultaneously.
Intended use of the customer
Determining the purpose of buying a solar generator and its intended area of application is important while reviewing different available options. Some solar generators are best suited for stationary in-home use while others are ideal for outdoor activities, camping, hiking, etc. Therefore,  this factor is very necessary to consider before making a choice.
Best solar generators under $200 – Top 3 Picks
If you looking for an efficient solar power backup system within a small budget, we have the solution for you. The following are some top-rated solar generators under $200.

SUAOKI generator has a compact, sleek design and weighs only 1.31 kg. Its small size makes it very portable and easy to carry wherever you are traveling. It features a power capacity of 150Wh with 10 output ports for different external attachments. The generator comes with 2 concealed handles making its mobility easy. The UL certification makes it a highly reliable choice for investing money. If you are searching for a low-cost but big on power, solar generator then SUAOKI 150Wh is a great choice.
Key features:
Consists of a high-power emergency flashlight.
Has a power capacity of 150Wh which can easily charge mobile phones, laptops, and other such personal gadgets.
Supported by a lithium-ion rechargeable battery in case of emergency
Can be recharged by 60W or 100W solar panels, direct sunlight, AC wall socket, or car's cigarette lighter port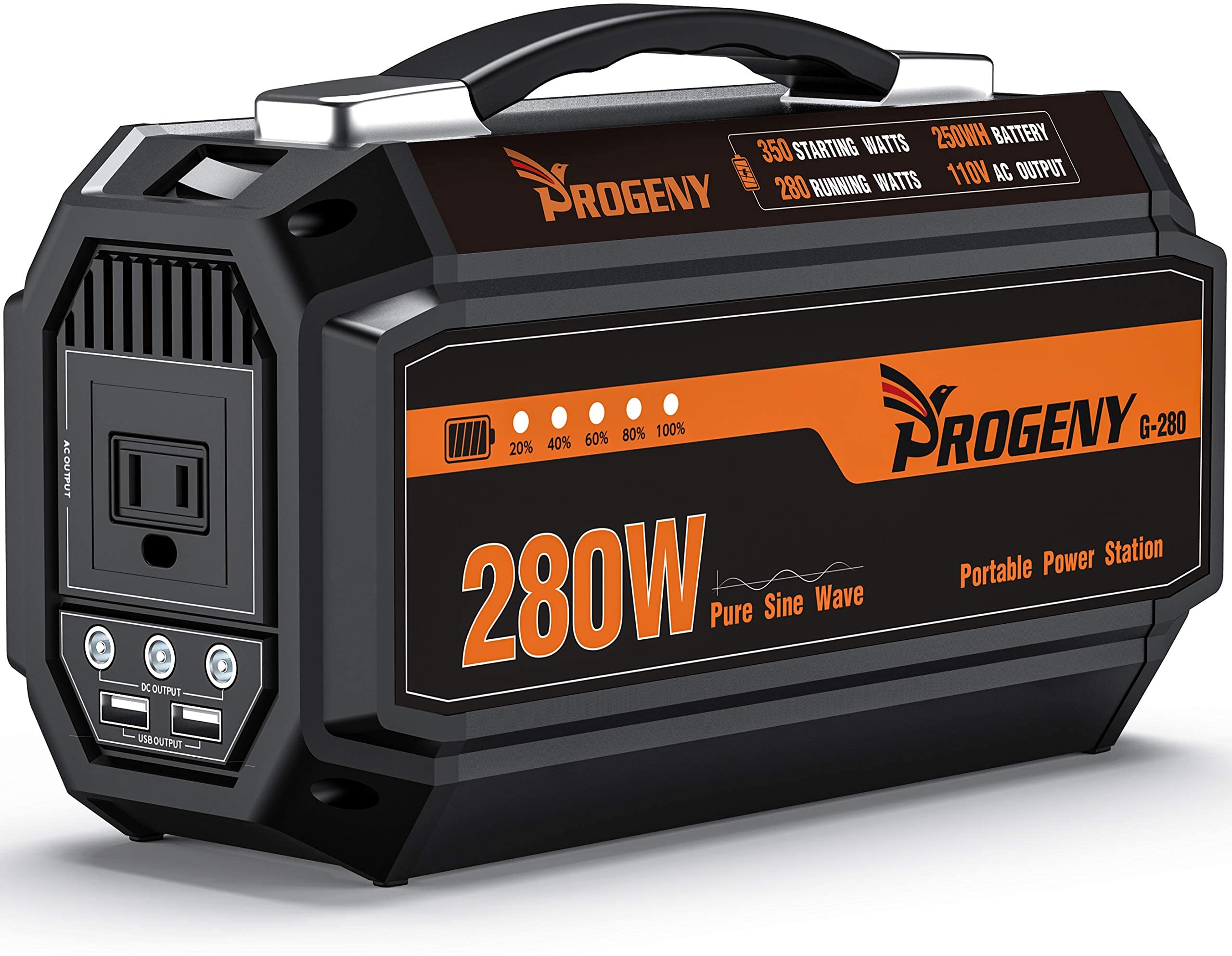 If the size of the generator is not an issue for you, then this solar generator is an ideal product for a powerful experience. Progeny generator has dimensions of 14 x 8 x 5.6 inches and weighs 2.5 kg which makes it is easy to carry. It has a power output of 280W. The operation of this generator is almost noise-free, vibration-free, and is safe for both the health and environment. So, if are looking for a high-power experience on a low budget then Progeny 280W Generator should definitely be on your list.
Key features:
Powerful, high quality, quick shipping, and easy to use
Can easily power laptops, 32-inch display TVs, room refrigerators, and other similar appliances under 300W.
Can be recharged by a 100W solar panel, wall socket, or car charger
Noise-free, vibration-free and does not generate toxic emissions
Comes with 1 AC, 3 DC, and 2 USB output ports.
Goal Zero Yeti offers the best charging solutions for travelers and mountain trekkers. It comes with 168Wh lead-acid battery which can conveniently recharge 5 electronic devices in one go. It provides a constant power supply of 80W and consists of a 160W SINE WAVE INVERTER. Therefore, for all the passionate travelers searching for the best solar generators under $200, Goal Zero Yeti is a great product.
Key features:
Has a compact design with dimensions of 7.75 x 6.75 x 5.75 inches and weighs around 5.4 kg
Provides a power output of 168Wh
Comes with a lead-acid battery which takes less time to charge
Can charge mobiles phones, video cameras, laptops, and other similar personal gadgets
Speedy charging by AC wall socket or solar panel.
The lead-acid battery provides excellent performance at low temperatures as compared to lithium-ion batteries which can very swiftly drain in cold weather.
Best solar generators between $200 and $500 – Top 3 picks
If you have a high energy requirement and are ready to increase your budget to $500, we have the 3 best choices for you listed below.
Jackery Portable Solar Generator provides a consistent power supply for AC charging devices like cell phones, laptops, etc. It provides a large power output of 500W and is perfect to use in RVs and at outdoor BBQ parties for powering food blenders and electric grills. This solar generator is equipped with a Battery Management System ensuring voltage and current protection and overall power security. It is an ideal power generation solution for people who love outdoor adventures.
Key Features:
Consists of multiple power output ports which can charge up to 7 electronic gadgets simultaneously
Offers convenient recharging options and can be charged by 100W solar panels with 9.5 hours, a carport within 16 hours, and an AC wall socket within 7.5 hours.
Equipped with a PURE SINE WAVE INVERTER ensuring safe charging of sensitive electronics such as laptops, mobile phones, etc.
Consists of a 518Wh lithium battery which has a power output of 500W.
It is a highly efficient solar generator with a power output of 540W. AIMTOM SPS-500 provides a powerful charging experience to campers, fishers, hikers, and all other travelers. It is compact in size and consists of a lithium-ion battery weighing 20% less in comparison to other batteries of the same capacity. AIMTOM SPS-500 has dimensions of 10.2 x 6.76 x 6.69 inches and is light in weight. It can charge 9 devices in one go so provides an excellent power backup solution on a low budget.
Key features:
Provides a power output of 540W with a travel-friendly lithium-ion battery.
Provides easy recharging by 60W or 100W solar panels within 14 hours, AC wall socket within 8 hours, and car charging port within 16 hours.
Equipped with an integrated Battery Management System which protects against short-circuiting and voltage fluctuations.
Comes with a built-in Maximum Power Point Tracking (MPPT)  controller providing highly efficient solar charging.
Consists of a LED flashlight and LCD display providing real-time data of charging status and power usage.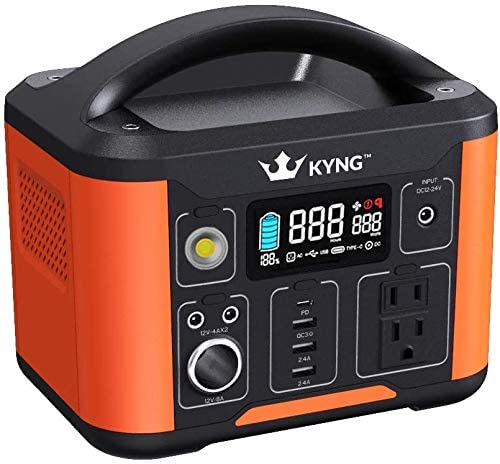 Kyng Emergency Solar Generator is one of the most powerful and reliable power generators. It comes with CE, ROHS, FCC, ETL certification, a 100% guarantee on the generator, and a 1-year money-back warranty. It has an output power wattage of 500W and consists of 2 AC, 2 DC, and 4 USB ports. If you are looking for the best solar generators within the range of $200 to $500, then the Kyng Emergency Solar Generator needs to be on your list.
Key Features:
Allows convenient multiple recharging options such as 60W solar panels in 7-9 hours, AC wall socket in 6 hours, and 12V carport within 7-8 hours.
Completely emission and fumes free
Compact in size with dimensions of 5 x 4.5 x 5.2 inches and weighs only 3.17 kg so it Is very easy to carry.
Can power 9 devices within one charging cycles
We have enlisted the best solar generators under $200 and $500 available in the market. Also, the aspects which you need to consider before making a choice are discussed. Start by comparing the features and ultimately selecting the option that best fits your needs, from the list. If you want to really save as much money as possible I would recommend checking out our solar CD guide on how to make your own solar panels at home! We hope that you succeed in finding the best power backup solution. Good Luck!