Everyone, be it watch enthusiasts or not so lovers, all have must have heard about solar watches. Primarily because companies love advertising solar watches on television and social media. Despite the fact, that solar watches are a well-known technology, there are numerous people out there who really do not know exactly what these watches are and how they work.  So, do not worry, we present you a complete guide to help you know about solar watches. Moreover we enlist for you the best solar watches under $100, $200, and $500 to make your decision easier.
Solar watches
A solar watch is similar to a quartz watch however, it is equipped with solar panels that capture sunlight or man-made light to power the watch. There is no need for a battery or winding the watch daily. Since the 1970s, solar watches are being produced in mass quantities, for both men and women. Nowadays, with technological advancements, there are several watch brands that are now offering solar watches as their primary watches that vary in price starting from under $100 only.
History of Solar Watches
Roger Riehel created the first-ever version of the solar watch in 1968 followed by a prototype in 1970. Later in 1972, a full production known as "Synchronar" was released. In the 1970s, Synchronar was looked upon as a very modern, classy, and futuristic timepiece. The watch had two solar cells on its top where the time was displayed. This was an odd feature as the time display was on the side of the watch. Synchronar was produced for a very long time and was commercially available till 2007. The watch was equipped with advanced features when compared to features available in other watches of that time. Such as, with switches that were controlled magnetically, the watch was capable to adjust itself automatically for daylight savings along with leap years. Moreover, it was certified for diving up to 700ft.
As time passed, solar watches also evolved and the next big landmark was the Cryston solar watch made by Citizen in 1976. It was the very first solar watch that had an analog display. The watch's center dial had a wide array of solar panels which were four in number and the watch had a classic, traditional look. From here, the commitment by Citizen to solar-powered watches started which ultimately led to the development of the very famous Eco-drive series of Citizen.
How do solar watches work?
Although the detailed mechanism of working of solar watches is a bit complex to understand especially for someone who is not related to science. However, if we can describe it in one sentence, we can simply say that solar energy is collected by the solar panels in these watches and is transported to the watch to power it via wires.
Collection: small solar panels are installed in the display of the solar watches by the manufacturers. Moreover, the panels are made of silicon, and two layers are used. Silicon is preferred due to its ability to capture the sun's energy.
Transport: the flow of energy takes place from the first to the second layer of silicon and then to the battery through a wire. The energy flows in form of electrons through the system which is reused again and again as vessels for transportation.
Function: as the battery is filled with energy, the solar watch starts to function like a normal quartz watch.
Solar watches: Advantages and disadvantages
Advantages
Solar watches are easy to charge by using sunlight or any artificial light.
Environment-friendly watches as the number of non-biodegradable batteries used is reduced.
Budget-friendly since they require low maintenance and no recurring charges.
Solar watches are zero maintenance since they need to be kept near the light source for charging.
Have high power reserves i.e. can last up to 6 months with 3 hours of charging.
Disadvantages
Solar watches require constant light to stay charged
Solar watches are costly
Some watches have visible solar panels which are not suitable for most formal attires.
Best Solar watches under $100
Following are the top two picks for the best solar watches under $100, shortlisted based on their features and customer reviews.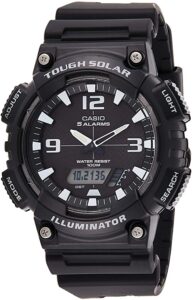 Casio is one popular watch brand offering the best solar watches that everybody loves and wishes to own. Here are its key features:
Black and silver classic watch with screws, numbers, and lettering in silver accent.
Design-wise, it is a watch known for its durability and has a compact, easy to carry shape.
It is water-resistant up to 100 meters.
Equipped with LED light of afterglow feature and has hands and markers which are neo-brite luminous.
Battery life is of approximately 10 months after full charging.
The watch displays the world time and the days of the week.
Another very budget-friendly watch is the Timex Expedition Solar Watch. Following are its key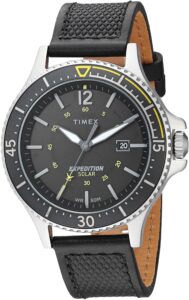 features:
Available in a variety of colors with an adjustable textured leather strap that can comfortably fit the wrist circumference.
Easy to charge using any source of light and provides a power reserve of approximately 2 months.
It features a dynamic black dial with accents in bold yellow color. It also displays the date.
This solar watch has a brass case in silver-tone with a mineral lens and luminous hands.
For up to up to 50 meters this watch is water-resistant but not usable for diving or snorkeling.
Best solar watches under $200
We have shortlisted for you the top two picks for the best solar watches within the range of $101 to $199.
The Casio G Shock is the ultimate go-to watch for any casual occasion. Here is the list of its key features:
Like all G Shock products, Casio G Shock solar watch has a tough and durable casing and is shock resistant.
It has an analog display which is extremely easy to read and providing the best quality.
This solar watch is extremely easy to set up.
Provides a power reserve for up to 2 years.
An additional bonus is that the watch is able to absorb any light source from sunlight to artificial light.
For up to 200 meters, this solar watch is water-resistant.
If you want a rugged-looking watch yet a comfortable fit, the Citizen "Military" Quartz watch is for you. Following are its key features:
This watch is a military-inspired timepiece that is extremely comfortable and yet affordable.
The watch has a black-ion-painted stainless steel case and a dark green strap.
It has a black dial with illuminated hands and markers.
Features an analog display and 12/24-hour time.
It features the Citizen's Eco-Drive technology and can use any source of light for power.
Best solar watches under $500
If you are willing to spend a little more on a classy eco-drive solar watch, have a look at our top two picks for solar watches under $500.
For all those men who love delicate designs, this is an attractive yet environment-friendly time partner for them. Seiko is a great solar watch brand and the following are the key features of a number of their designs:
It comes with a black ion dual-toned finishing featuring a 60-minute chronograph and calendar. Following are the key features of this solar watch.
The watch case is of stainless steel with a 42.5 mm width and 12 mm thickness.
It is water-resistant up to 100 m
The watch comprises of three sub-dials positioned at 12, 6, and 9 o'clock
Features a bracelet band made of stainless steel featuring a push-catch fasten.
Features 12-hour alarm along with dual-time function
It has a Japanese quartz movement and an analog display, moreover it has an energy reserve for 6 months.
Citizen Eco-Drive watch features a cohesive design incorporating all the dressy and technical aspects ensuring maximum versatility of use. It is an ideal go-to watch with multiple classy dials. Following are the key features of this watch:
Features silver-toned finishing with 43 mm width.
It has a sapphire dial with a trio of chronograph sub-dials.
The watch has a foldable band of stainless steel with yellow contrasts on the dial.
Features synchronized time setting in 26 different cities of the world
Also, 12- and 24-hour time display modes are available.
Citizen's Eco-drive solar watch has Japanese quartz movement along with an analog display

Citizen Eco-Drive Movement men's solar watch
Conclusion
The very first solar watch was commercially available in the 1970s, and from the technology has advanced and impressive changes have made to this product. Solar watches of today are modern, unique and classy. Moreover, they are offering both style and functionality to users. We have provided you a complete guide as to what one should know about solar watches and have refined your search by providing you the best solar watches under $100, $200, and $500. Now you can own a watch that you love as we have made your decision easier. If you are fond of environment-friendly products that look good, then solar watches are the right product for you. So, why wait, go get yourself one.