People who have pools in their homes are one of those fortunate people who have a convenient place to cool down in hot summers. However, the real pain comes when the weather is cold, and you need to spend huge amounts of money to make your pool comfortable. Heating systems for large pools can be really expensive, but as technology is advancing, we now have affordable and sustainable options to help heat our pools efficiently. One renewable energy option for heating large pools are solar pool heaters. Therefore, to make your work less tiresome, we have gathered all the information you need to know about solar pool heaters along with five of our best picks.
What is a solar pool heater?
Solar pool heaters are devices that are similar to solar panels and use thermal heat energy to warm the pool water. Commercially there are three types of solar pool heaters which are available:
Type 1: The solar panel system is placed on the roof of any building nearby. These are best suited for pools that are
underground or are very large in size.
Type 2: Portable heaters which can be placed conveniently next to the swimming pool on the ground to heat the water. These are best suited to heat portable, inflatable swimming pools.
Type 3: Solar pool covers have various benefits such as they can trap heat, reduce humidity, and keep the pool clean from dirt and debris, however, they are not very powerful.
Solar Pool Heaters: working 
Following are the components of the solar pool heaters:
Solar collector: a device which heats the pool water using thermal energy from the sun and water circulates through this collector, it absorbs heat and its temperature increases.
Filter: it filters all the debris before the water goes to the collectors.
Pump: a device that causes the water to circulate through the filter to the collector and then back to the swimming pool.
Flow control valve: these can be either automatic or manual and assist in diverting water through the collectors.
Buyers guide for solar pool heaters
Size of the Pool
It is very important to consider the pool size since it determines the type of system to be used. Generally, small to medium size solar heaters are used for small to medium-sized pools, and solar pool heaters with very powerful systems are required for large pools with more depth.
Build Quality
The material being used for the construction of the solar pool heater is also important since the longevity and capability to heat the pool depends on it and therefore, it needs to be durable.
Pool Functionality
Generally, pools which have recreational purpose do very well with solar heaters as they provide the appropriate temperature. However, large pools which are for sports and exercise purposes, need solar pool heaters that provide consistency and reliability in terms of temperature.
Cost of Solar Pool Heaters
Cost is one thing which everyone will look into when investing in a solar pool heater, and rightly so. You need to make sure that you are getting the value for the money you are spending since there are various options available in the market to choose from.
Solar Pool Heaters: Pros and Cons
Pros
Solar pool heaters are environment friendly as they use the natural sunlight to heat the pool which has potentially no air emissions and also, helps reduce the heating process's carbon footprint.
Solar pool heaters only have an initial, one-time investment for the heating system's installation. This cost gets recovered over time as the heating system is self-sufficient and has no operating costs.
Solar pool systems allow you to enjoy longer pool seasons since warm water is cycled by these systems continuously.
By upgrading your homes using solar heating systems, one can increase the worth of his/her property since there is a rise in demand for solar-based home upgrades.
Solar heating systems are really simple in terms of functionality as there is no hassle of internal controls, wiring, or moving parts. Furthermore, these systems and withstand different pH levels and water chemistry of the pool.
Typical solar pool heaters have a shorter payback period, which is within three years, in comparison to other types of pool heaters such as, gas and electric.
Cons
Solar pool heaters are not very effective when the sunlight is less, which is experienced on cloudy days or during winters.
Solar pool heaters varying from small to large pools have a very high initial cost ranging from $3500 to $7000. When compared to other heating systems such as gas and electrical, their initial cost is comparatively less i.e. around $2000 to $4500.
Longer heating time is another drawback of a solar pool heater. The heaters take a few days after being installed to effectively heat the entire pool and then they start to maintain the temperature.
5 best picks for solar pool heaters
This solar heating unit is also known as the "Solar Bear" and is extremely easy to use and install. The size of the solar panel is 20 ft. and it does not have any connectors due to which it is very convenient to set up. This heating system has a durable and UV resistant construction with large headers of 2 inches. Moreover, it is best suited for medium to large-sized swimming pools and comes with a 10-year warranty. This is the best option for pool owners who are looking for reliability, durability, cost feasibility, and ease of installation, as Fafco never disappoints.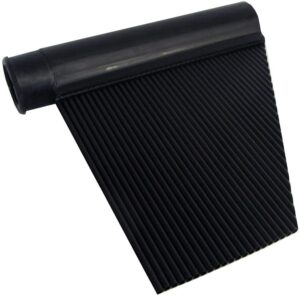 Pros
Heating system is made from UV resistant materials
Durable and long-lasting
Easy installation as there are no connectors
The solar heater comes with a 10-year warranty
Cons
Customers have reported leaks when they were using the system
Require large space due to its 20-inch solar panel
The SolarPRO Curve is a suitable option for large swimming pools since it has a compact shape and smart technology which enables it to work efficiently in just a few days. This solar heater has a streamlined curved design which makes it ideal for any environment and is also cost-efficient. Furthermore, the design makes the heater to collect solar energy at every possible angle because of which it can easily raise the temperature of the pool by 10 degrees in just a few days. Another key feature apart from being budget-friendly is that is easy to install and has a durable construction.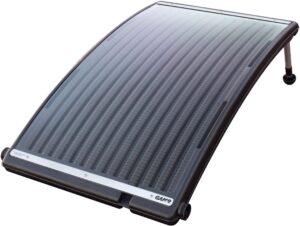 Pros
The design is small and compact
Greater efficiency in collecting solar energy due to its curved design
Affordable price
Easy installation
Environment friendly and efficient heating system
Cons
Size is small due to which it is not able to provide the level of heat that you might be expecting.
For pool owners looking for fast and reliable pool heaters, Smartpool solar heater is ideal for you. These heaters have huge solar panels that can collect solar energy very efficiently and can raise the water temperature by 10 to 15 degrees in less than 24 hours. They have an eco-friendly, durable design and use purpose-built tubes to connect the solar collectors with the swimming pool. Moreover, these heaters come with interchangeable connectors allowing them to operate for both above ground and in-ground swimming pools. Also, the direct-flow system can be set up easily once you get hold of it.
Pros
Passive operation
Provide versatility and are well suited for above ground and in-ground pools
Environment friendly
Impressive performance
Cost-effective
Cons
Difficult to install
Solar panels are very large in size
This solar pool heating system is extremely efficient in warming your pool by effectively capturing solar energy. The solar panels are 4′ ft x 20′ ft and are made from polypropylene which has enhanced resistance towards UV light and makes these panels extremely durable. Furthermore, it includes various kinds of tubes that help water circulation which can extend the pool season by several weeks. This solar heating can effectively raise the water temperature by 6 to 10 degrees F. The panels offer extended rigidity and can expand and contract due to temperature fluctuations. The solar pool heater also comes with a separate installation kit.
Pros
The Xtremepower US solar heater is extremely inexpensive and easy to afford.
It is easy to install and maintain
It is well suited for both in-ground and above ground pools
Cons
It may require a diverter kit
This is another option to your list which has a 24-inch-wide and 20 feet long solar panel providing a coverage area of 40 square feet. This solar pool heater is a suitable choice with a reasonable price and works well for both, in-ground and above ground pools. Depending on the location of the solar irradiance this heater is capable of increasing the pool temperature by 10 to 15 degrees F. This product works well with most of the pool pumps and is extremely easy to install on the rooftops. Moreover, it comes with hose adapters and O rings that assist in its installation.
Pros
It is a roof-type solar pool heater
Suitable for in-and above ground pools
It can effectively provide a 10 to 15 degrees F temperature increase.
Cons
Not easy to install and may require assistance
Conclusion
Summing up our review, we can say without any doubt that solar pool heaters are one of the best options for swimming pool owners out there. These heaters not only warm up your pool water warm but are also easy to afford. We have made it easier for you by highlighting all the things you need to keep in mind before buying one. So, if you want to extend your pool seasons cost-effectively and want to enjoy some good quality time with friends and family, get yourself a solar pool heater as soon as possible. Happy swimming!